Lafayette, CO—Colorado C-PACE announced today that First Stone Development  will leverage $9.9 million in financing provided by Greenworks Lending to develop a mixed-use multi-family/retail project in Denver. This is the largest single CO C-PACE financing to date and pushes total program financings over $100 million.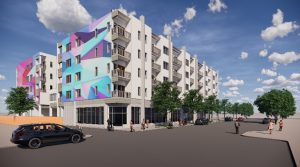 First Stone Development will use the funds to replace five existing buildings on Santa Fe Drive in Lincoln Park with a 123-unit condo project that will include 11,000 sq. ft. of ground-floor retail space, and 115 parking spots. Lenny Taub, Managing Member of First Stone Development said, "With long-term, low-rate financing from the Colorado's C-PACE program, we were able to expand our original vision by adding space for one or two restaurants which are needed in the area."
Greenworks Lending, a Nuveen affiliate and a leading provider of C-PACE capital, provided financing for this project. Sean Ribble, Director of Originations said, "It was a pleasure to work with First Stone Development on this project. The Colorado development community leveraging the power of C-PACE financing shows exemplary leadership by utilizing this innovative tool to encourage efficiency standards that exceed the code and  yield  both financial and environmental benefits."
Denver based Group14 Engineering provided the technical support and analysis necessary to qualify the project for C-PACE financing.
About Colorado C-PACE
A program of the New Energy Improvement District (NEID), administered by Sustainable Real Estate Solutions, Colorado C-PACE facilitates financing for energy and water improvements in new and existing commercial buildings, including new heating/cooling systems, lighting, water pumps, insulation, and renewable energy projects. C-PACE offers long-term financing that covers 100 percent of the project cost and is repaid over a period of up to 25 years. The payments are structured as a regular line item on the property tax bill.  When a property is sold, the C-PACE assessment can stay with the property and transfer to the new owner, who enjoys the ongoing utility cost savings associated with the project.
About SRS
Sustainable Real Estate Solutions (SRS) partners with state and local governments to administer commercial property assessed clean energy (C-PACE) programs. Founded in 2010 by experienced commercial real estate and energy efficiency professionals, the company's proprietary technology-enabled PACEworx™ Platform streamlines the management of the data-intensive C-PACE technical and financial underwriting process. SRS's Investor Confidence Project-credentialed quality assurance methodology has facilitated more than $445 million in C-PACE financing nationwide. SRS empowers C-PACE public-private partnerships across the country. The company is based in Trumbull, Connecticut.
About Greenworks Lending
Greenworks Lending, a Nuveen affiliate, is the largest provider of Commercial Property Assessed Clean Energy (C-PACE) financing in the country. Led by several of the industry's founding policy developers and standard-setters, Greenworks Lending is a private capital provider uniquely dedicated to funding commercial real estate through C-PACE. Greenworks has provided financing to hundreds of commercial properties and is active in more than 25 states, making clean energy a smart financial decision for commercial property owners and developers nationwide. For more information, visit greenworkslending.com.